What is the Melbourne Rapid Fields?
MRF visual field software on multiple platforms (iPad, Web) provides a portable, rapid and accurate threshold testing of visual field for patients with eye and neurological conditions. During COVID-19 pandemic it is highly recommened for use in the clinical setting, instead of using viewing-dome type or goggle type visual field devices that makes direct contact with patient's face and aerosolized droplets could spread between patients.
Contact us today to find out how you could use MRF in your clinic as well as how you could provide Telehealth solution for your patients using MRF.
Melbourne Rapid Fields (MRF) is designed for home-monitoring and sensitive clinic-based detection of vision problems caused by the following conditions:
- Glaucoma
- Age-related macular degeneration
- Macular oedema from diabetes or retinal vein occlusion
- Diabetic retinopathy
- Neurological conditions that affects the visual field (including multiple sclerosis, optic neuritis)
MRF software is registered with the Therapeutic Goods Administration (TGA) in Australia as a perimetry device.
MRF is meticulously designed to perform vision and visual field testing on portable tablet devices for the purpose of:
1. Allowing patients to monitor vision at home and
2. Allowing doctors/optometrists/general practitioners to perform visual field tests (perimetry) for patients in the clinic.
MRF is currently suitable for most iPad devices and web-based app is suitable for most desktop or laptop devices
Example visual field test reports from MRF
1 / 5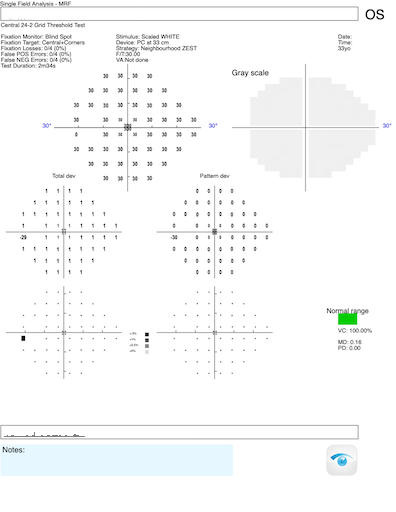 Normal
2 / 5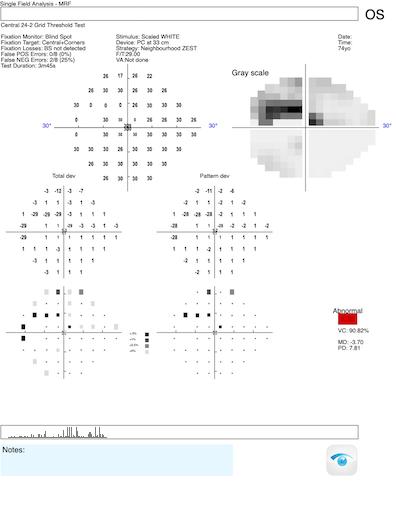 Paracentral scotoma
3 / 5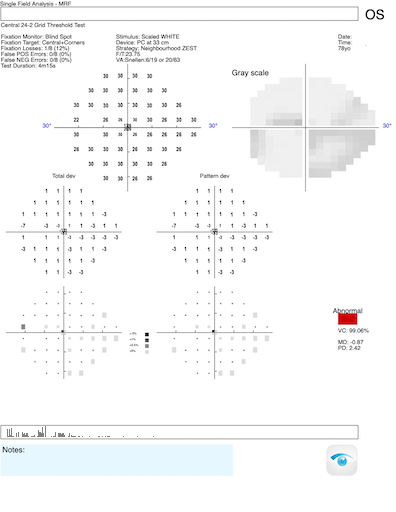 Mild glaucoma
4 / 5
Moderate glaucoma
5 / 5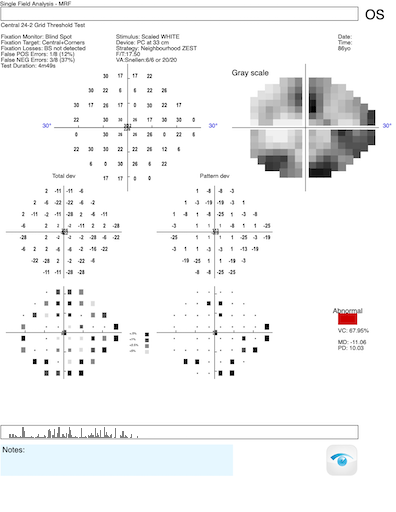 Advanced glaucoma
MRF Glaucoma
MRF Glaucoma is specifically designed to perform a fast and accurate assesment of the central and peripheral visual field for patients with glaucoma or eye pressure problems.
It is designed for use with the standard iPad, iPad Air 1/2 and iPad Pro 9.7 inch/10.5inch/11inch and 12.9 inch.
MRF Glaucoma has the following modules:
Full-field test (66 points in 30x20 deg) full absolute threshold test suitable for detecting visual field defects in patients with glaucoma
Central test (40 points, 17x12 deg) suitable for patients with moderate-advanced glaucoma
Macula test (20 points within 6 deg) suitable for end stage glaucoma assessment.
Screening test (66 points in 30x20 deg) - superfast visual field screening test in assessing risk of glaucomatous field defects.
MRF Glaucoma allows patients with glaucoma to monitor their visual field at home. It sends a notification to the treating doctor/optometrist if a significant change in vision has been detected.
MRF Glaucoma is a rapid test: Visual field screening test takes approximately 1.5 minutes per eye.
For full threshold test: full threshold testing takes on average ~4 minutes per eye on a standard 9.7inch iPad and ~3.5 minutes per eye on the larger 12.9 inch iPad Pro.
How can an iPad screen detect peripheral visual field changes? Full threshold visual field testing up to 30 degrees from the central fixation point is achieved on a standard iPad (9.7 inch) or 10.5/11inch iPad pro by patients changing fixation to 4 corners of the iPad following the fixation marker (red target) when directed during the test. On a larger screen 12.5 inch iPad pro, patients only need to change fixation once. This change in fixation allows visual field testing up to 30 degrees in the horizontal meridian and 24 degrees in the vertical meridian suitable for glaucoma assessment.
How does MRF Glaucoma assess reliability of visual field testing? MRF Glaucoma assesses reliability of testing using standard reliability indices used by conventional visual field machines. These include testing for fixation losses, false positive and false negative responses.
Uses of MRF Glaucoma
1. Patients with glaucoma or eye pressure problems can use MRF Glaucoma to assess their own visual field at home. They can nominate their doctor or optometrist to receive notification and review their results for any change in their vision.
2. Optometrists/Ophthalmologists/General practitioners can use MRF Glaucoma to assess visual field for patients in clinics.
3. MRF Glaucoma can be used as a visual field testing tool in rural and remote communities with poor access to conventional visual field testing.
4. The incredible portability of MRF Glaucoma means health care practitioners will be able perform visual field tests for patients with mobility issues or those living in nursing homes.
MRF Macular
MRF Macular is designed for monitoring vision for patients with age-related macular degeneration (AMD) and macular oedema due to diabetes or retinal vein occlusion.
It is designed for iPad mini 1/2/3/4, standard iPad, iPad Air 1/2 and iPad Pro 9.7 inch, 10.5inch or 11 inch and 12.9 inch.
MRF Macular performs specialised vision testing designed to sensitively detect early changes in the macular. These include highly sensitive macular-focused visual acuity test and central visual field testing.
MRF Macular generates alerts to the nominated doctor when there are early signs of vision changes in to central vision as result of wet-AMD or macular oedema. This will then allow the doctor to prescribe the most appropriate treatment for the patient in a timely fashion to preserve vision.
MRF Diabetes
MRF Diabetes is designed to monitor and detect vision deterioration associated with diabetic retinopathy.
It is designed for standard iPad, iPad Air 1/2 and iPad Pro 9.7 inch/10.5inch/11inch and 12.9 inch.
MRF Neural
MRF Neural is designed for patients with neurological conditions that affect visual field (eg pateints suffering from stroke, multiple sclerosis or optic neuritis) to monitor their visual field over time.
It performs visual field testing as well as vision testing that is specific for neurological conditions.
It is designed for standard iPad, iPad Air 1/2 and iPad Pro 9.7 inch/10.5inch/11inch and 12.9 inch.
Our company specialises in the design, testing and implementation of vision related software for portable devices.
Our mission is to design products that are:
Clinically validated and portable
Suitable for patients to monitor their own vision at home
Suitable for doctors/optometrists/general practitioners to perform vision testing in clinic.
Here is a short video of what we do: https://youtu.be/xaH77Rk45k4
GLANCE Optical was founded in 2015 by Professor Algis Vingrys and Dr George Kong.
Algis has extensive experience in vision testing and has acted as a consultant for several companies (Medmont International, Matrix) in perimeter design and vision test development.
George is an ophthalmologist registered with Royal Australian and New Zealand College of Ophthalmologists with glaucoma subspecialty interest and extensive knowledge in software development for mobile platforms. He produced(George Kong softwares) the prototype visual field application in 2011 called Visual Fields Easy that allows visual field screening of patients using the Apple iPad (generation 2/3/4/Air/Air2). This application has been trialed in Nepal and found to provide reliable estimates of visual field defects when compared to the Humphrey 24-2 Sita-Standard program. See News for details.
The early versions of iPad (generation 1) had limitations that prevented them from being used as a perimeter in the threshold mode. This is not the case for the later iPad versions (generation 3/4 and later) and the MRF software was written to exploit this potential.
We anticipate that the MRF can be used after some training of the patient by a clinical assistant in situations where it is difficult for patients to access the standard test equipment:
in a doctor's waiting room prior to an appointment,
in rural and remote areas,
by a patient's bedside, and
in self-monitoring by patients in the comfort of their own home.
We are always interested in improving our software and finding new applications, so please get in touch with us and let us know your experience or thoughts on how to improve the product.
Please contact us if you would like to use MRF in your clinical practise or research.
For Australian and New Zealand customers please contact Designs for Vision T: 1800 225 307 Email: iggie@dfv.com.au
GLANCE Optical Pty Ltd. ACN: 610200783 ABN: 27 610 200 783